EVOtrans s.r.o. – Coach transportation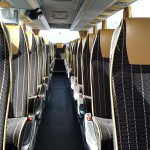 Our company is specialized in area of coach transportation for package tours, sightseeing tours, transfers, travel circuits or even shuttle service. We also provide other transport services according to the needs of our clients and we are capable of managing a tour across whole Europe, which means that the starting point may be set anywhere depending on client's demands.
Thanks to capability of providing transportation to larger amount of people, we are competent to fullfill also requirements of large travel agencies. We cooperate not only with agencies such as: Tip travel, Vienna Holidays, Unotour, Danube4you , Makoto, Super-travels, but also with clientage from areas like Japan, China, Taiwan and many others.
Transportation is secured by luxury coaches Setra, Scania, Mercedes Benz with capacity of 6 to 58 seats. All our vehicles are technically competent and fully insured.
Our drivers speak foreign languages fluently (english/german), have age-old experience in the field of passenger transportation and are absolvents of Academy of safe driving.
Transport services are provided during whole year including all public holidays for entire Europe.
Based on your request we will send you detailed price offer of your tour.
All is arranged in order to maintain our client's happiness.
Contact us:
Phone: +421 948 045 612
Mail: roman.jurco@gmail.com
Web: www.evotrans.sk